The World Economic Forum introduces New York as one of the Top 3 cities in the world for tech, saying "New York boasts a diverse range of talent from the financial and retail sectors to support its technological offering. Prices may be high, but the opportunities are great: world-renowned universities, a business-focused culture and global links make New York attractive for start-ups and multinationals alike."
In other words, everyone is driven here for the same reason that most others visit, reside or do business here – it's a "melting pot."
And the best way for visitors to explore is through our NYC Tech & Startup Tours.
What our NYC Tech Tours offer Groups
At CoTo Travel, we offer groups of students, entrepreneurs, officials and scholars the opportunity to experience the vibrancy of New York's tech scene through the eyes of those building the fabric of the community, one line of code at a time through NYC Tech Tours & Startup Tour NYC.
Our tech and startup tours of New York bring you to the front lines of new technology and innovation, from coworking spaces to incubators and even the offices of some of New York's hottest startups (based on availability)
Through custom workshops, site visits, discussions and networking events, groups will gain a holistic perspective of the inner workings of the NYC tech scene with our New York tech & startup tours
Attendees of our tech tours of NYC will have the opportunity to meet game changers in their particular industries, influencers in the greater community and practitioners active in building software & products to help provide insight into "what's next."
How our NYC Tech Tours work?
We work with each individual group to personalize programming to the interest and experience of the attendees taking one of our NYC Tech Tours and/or Startup Tour NYC. Below are several examples of applicable content we can develop to suit the needs of specific groups:
For Corporate & Investment Groups: visits to incubators, accelerators, makerspaces and startups with discussions ranging from business development to future trends. Custom evening networking programs also available.
For Startup Incubator & Accelerator Programs: curated discussions with local venture capitalists and accelerator programs to understand how to succeed and scale in the NYC market and beyond.
For Student groups (high school and college): we offer interactive activities and tours through our NYC STEM Tour & Makers of NYC programs, as well as career driven programs through out Intro to NYC Tech Tours.
Our Partners
Our public and private group NYC Tech & Startup Tour programs have featured speakers and workshops from world renowned industry leaders, innovators and game changers. A few of our previous partners and clients include: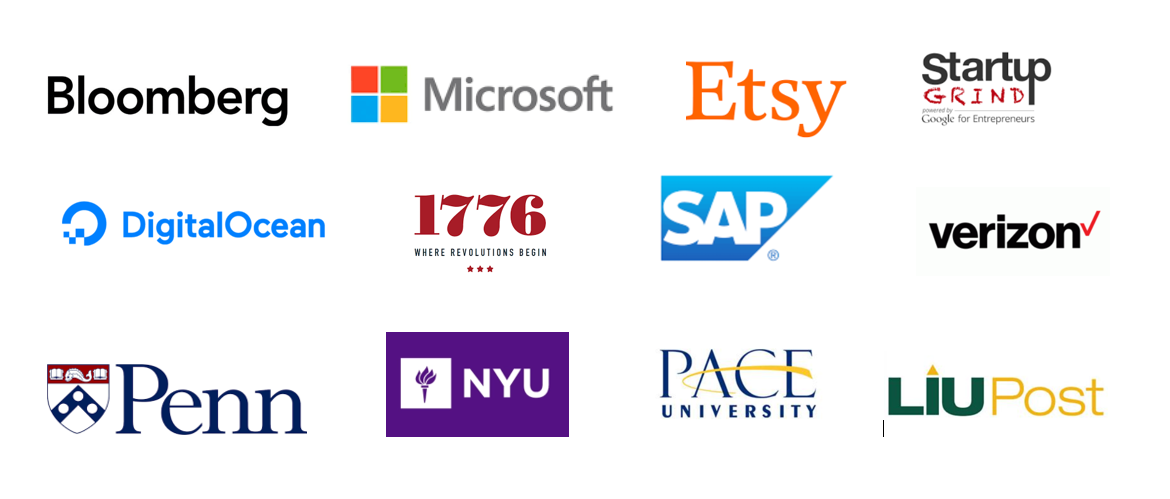 For more information about our NYC Tech & Startup Tour programs and to request a quote, complete the form below.