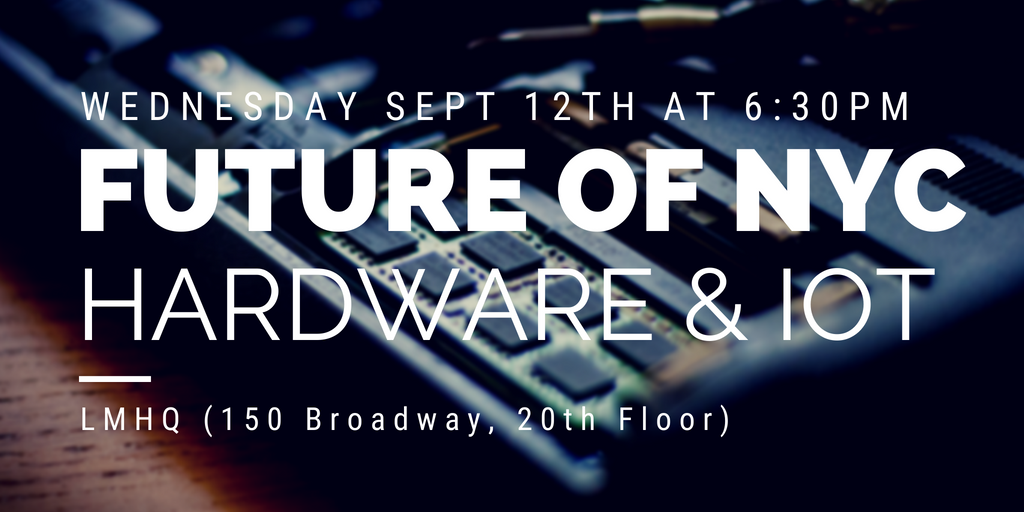 Who are the future leaders & innovators?
What are the trends to watch?
When can we expect these changes?
Where will the growth occur?
Why should we care about these developments?
Join us on Wednesday, September 12th as we discuss these questions and more at our Future of Hardware & iOT in NYC event at LMHQ. Our panel of experts from the Hardware & iOT communities, representing early and growth stage startups will share their knowledge, expertise and experience on a variety of issues relevant not only to startups and investors, but potential customers and partners as well.
Confirmed speakers (subject to change):
Danny Aronson
Co-Founder, CEO, Even
A classically trained composer, Danny earned a degree in Music Composition from the University of Tel Aviv's Buchman-Mehta Music academy, where he studied under Leon Shidlovsky and Arik Shapira. He's a multi-instrumentalist, playing flute, piano and guitar. For 20 years he was a partner in Israel's largest post-production sound studio, where he worked on thousands of TV ads and radio spots, in addition to numerous documentaries, TV dramas and feature films. He has also written, orchestrated and produced music for ballet and theater.
Even is reinventing personal audio with breakthrough technology and products that tune sound to each listener's unique hearing with our patented Even EarPrint. As a veteran group of sound designers, acoustic engineers, mastering technicians and audiologists, we are the first to highlight the unique and beautiful differences in each individual's hearing by delivering personal audio hardware products and software solutions that quickly and easily understand and tune personal sound to each ear.  For more information click here.
Jamyn Edis
Founder & CEO, Dash
Jamyn Edis is the founder and CEO of Dash, a connected car platform (www.dashmobile.co).  Jamyn is also a mentor and investor in Techstars, the world's premier technology accelerator, as well as being a participant in the New York 2013 program.  He has over 20 years of experience in strategy, product development, partnerships, finance and marketing, primarily in the technology, media and telecoms industries.  As a VP at HBO, he led the Emerging Technology R&D Group and also worked in the London and New York offices at Accenture's strategy consulting practice, with industry focus was technology, media and telecoms; his clients include Sprint, BT, Fox Interactive, MySpace, Rogers, Global Telematics, Trader.com, Sony PlayStation, World Rally Championships, Warner Music, EMI.  He is currently a Professor in New Media and Entrepreneur-in-Residence at NYU Stern School of Business. He holds an MBA from Harvard Business School and a BA/MA from Cambridge University.
Dash turns any car into a 'smart car'. Connect your car to your smartphone, and unlock enhanced performance, cost savings and social driving. Dash connects your smartphone to your car with a simple, low-cost device – call an On Board Diagnostic or OBD -which you can install yourself – simply reach under your steering wheel and plug it in! No mess, no mechanic, no problem. For more information click here.
Karina Costa
President, Lynq
Karina has worked with over 100 startups. She was the Director of Techstars Anywhere accelerator program, a mostly virtual accelerator that uses technology, the Techstars global mentor network and some travel to invest and work with companies based anywhere. In 2016 Karina architected Techstars Anywhere after she led Techstars Startup Next as Global Director, overseeing over 40 pre-accelerator programs worldwide. Prior to that Karina co-founded and served as COO of Fábrica de Startups in Lisbon where she ran a number national and international accelerator programs.
At the age of 22 Karina founded Glutone, a waste compactor solution for fast food chains. Karina has also worked in category management and at Kellogg's and in marketing at LG and others. She was distinguished as a member of Young Future Leaders of Economy by the President of Portugal and serves as a portfolio Advisor to Indico Capital Partners in Lisbon.  Karina has lived and worked in 4 continents and is now based in New York City. When not spending time with founders, you'll find her skiing or learning about human space exploration.
Lynq saves lives with location technology that allows you to find people anywhere in the world upto 5 miles without the need for phones, networks, maps or any connectivity.  Click here to learn more.
Si Dhanak
Director of Product, Latch
Si hails from London, England, where he cut his teeth in Product Design with his first startup out of Imperial College London. The startup, Caribu, a video calling application for families, was featured by Apple's Phil Schiller at the iPad Air Keynote. Post-Caribu, Si worked for the Product teams at the BBC before joining Latch as the first Product Manager in New York City. Two years later, Si now heads up the Product division at Latch where he leads a team building out a smart lock hardware and software ecosystem for apartment buildings to accelerate the keyless future and enable brand new experiences such as in-home delivery.
Latch is digital access for the physical world. Open your door with a passcode or an app, eliminate keys from your life, and securely manage all the people and things that need to access your space from the palm of your hand.  For more information click here.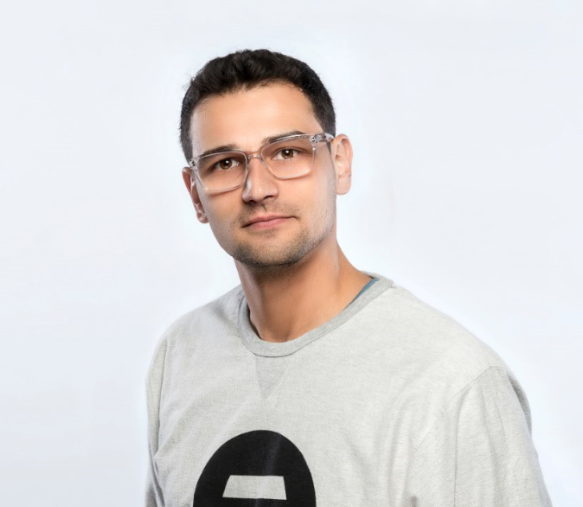 Steve Shapiro
Co-Founder & CTO, Token
Steve  Shapiro  is  co-founder  and  CTO  of  Token.  Prior to Token, he previously  co-founded  Digsby,  where  he  was  CEO until  it  was  acquired  in  2011.  He  went  on  to  run  product  and  design  at  Tagged,  and  then  Bloomberg's conversational  trading  network,  IB.  Steve  received  a  BS  from  the  Rochester  Institute  of  Technology, where  he  studied  human  computer  interaction.  He  is  passionate  about  the  point  in  space  where  product,  technology,  and  design  intersect.
Token which unifies the way you prove your identity and lets you live free of keys, cards, badges and passwords.  For more information, click here.
Sponsored by:
The MLAB is a company builder born out of Metalsa, a well-funded privately owned global company. Our goal is to launch and grow novel and differentiated startups that will leverage and power the group's future growth.
Through incubations, strategic investments, partnerships, and acquisitions we aim to discover unique insights to launch new business models. Our focus is on mobility and manufacturing with a special focus on electrification, additive manufacturing, IoT, and digitalization of manufacturing processes. As part of our mission, we look to foster and promote an innovative culture within our current footprint. To help build that ecosystem, and support us in developing our startups.
Mlab ventures is currently launching two incubations in the manufacturing area: one is focused on flexible and agile manufacturing for low volume production, and one incubation is targeting flexible low-cost assembly in the automotive sector for low volumes. For both incubations we are looking for enthusiastic entrepreneurs with experience in the broader manufacturing domain. Opportunities are posted here on LinkedIn as well as on our website www.mlabteam.com