We've had many requests from our guests on the process of purchasing tickets for our Breakliner Bus services. To answer any questions you may have about this process, we've created a step-by-step visual for you to view at your leisure.
Each step of the process is detailed below. If you have any questions, please call 877-724-4360 and Press 3
Step 1: Selecting One Way or Round Trip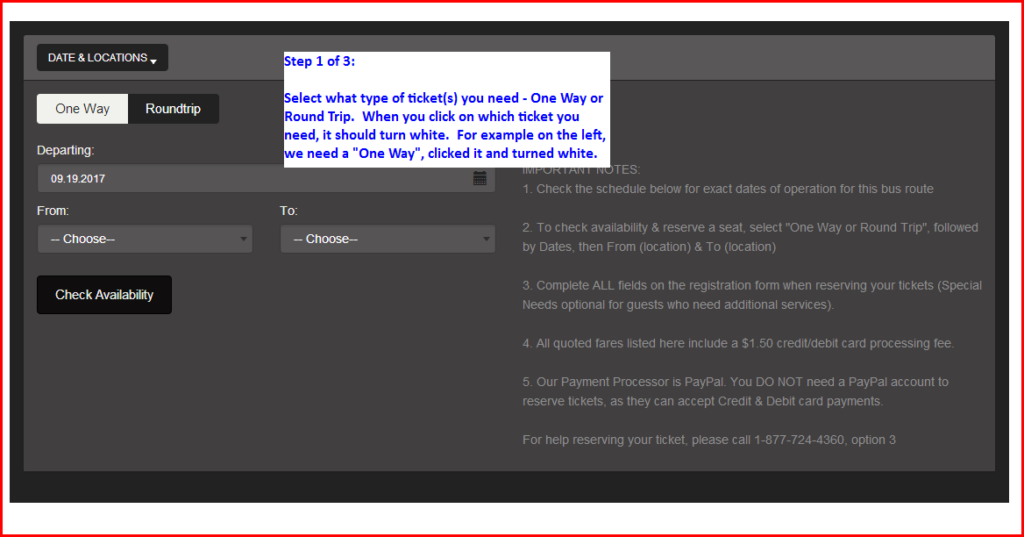 Step 2: Choosing the Date(s) of your trip
Step 3: Choosing your origin & destination locations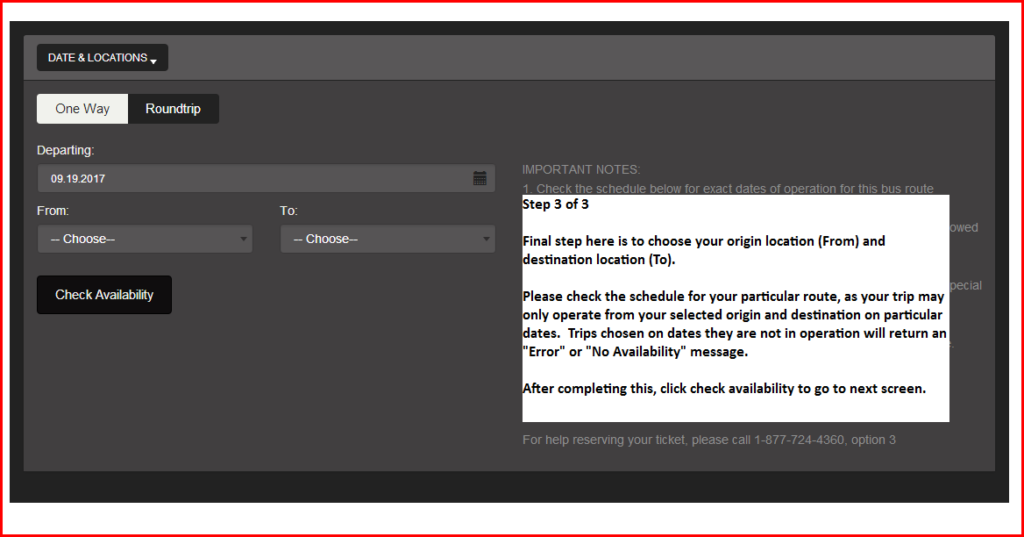 Step 4: Selecting Ticket Quantity

Step 5: Booking Details
Step 6: Entering the ticket holder's contact information and billing details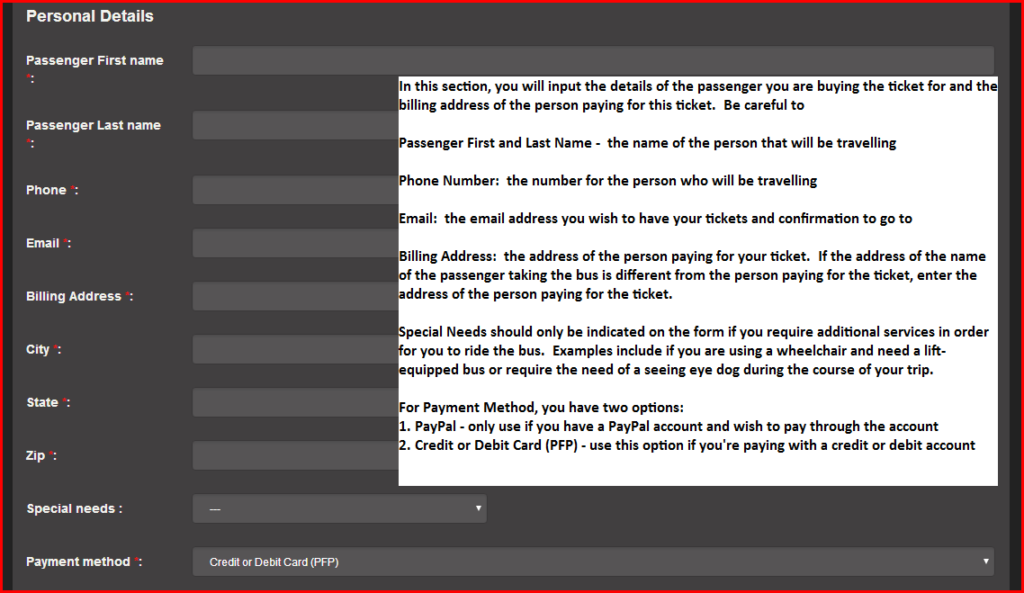 Step 7: Payment Options
NOTES:
1. Select your payment option based on WHAT DEVICE YOU ARE USING TO RESERVE YOUR TICKET
2. Based on what device you're using, there are two completely different processes for submitting your payment
3. For non-PC users, you will be redirected to PayPal to submit payment. You DO NOT need a PayPal account to pay by credit or debit card.


Step 7a (Apple/Android/PayPal Option Only): Paying by Credit or Debit Card
Step 7b (Apple/Android/PayPal Option Only): Enter Payment Info
Step 8: Confirming your trip selection & contact information
Step 9: Payment Confirmation
FAQs About how to Purchase a Bus Ticket
THE MOST FREQUENTLY ASKED QUESTION
I tried to purchase a ticket, made a selection, selected "PC Only" as Payment Option and entered my payment information. After all that, the system froze and I didn't receive a confirmation email. What happened?
Our processing system is sensitive to the type of operating system you're using. The payment will NOT process if you did not make the correct indication on which system you're using and can almost guarantee that you were not charged for that transaction. If you run into this problem, first retry your purchase and select "Apple/Android/PayPal" as Payment Option and follow those prompts (PayPal account is not needed to pay by credit or debit card). If you still have trouble purchasing a ticket, please call us at 1-877-724-4360 and Press 3.
If we find that you were charged for both attempts (PC Only & PayPal), we will contact you to process a refund.
1. When I select a date and enter my "From" and "To" it reads "No Availability"? What happened?
Check out the schedule below the booking portal on the page for the actual dates of operation for your particular route. Most publicly available services operated by CoTo Travel are not regularly scheduled trips, rather special trips for a particular group or event, such as college breaks or holiday periods. Therefore, your particular route may not be running on the days you selected.
2. My desired location is not listed as an option for this particular trip or date? Anything I can do?
CoTo Travel operates selected routes and city pairs on selected dates. Please check the schedule below the booking portal on the page for the actual dates of operation for your particular route.
3. When it says "Number of tickets" in the confirmation page, does it mean I'm buying all of those tickets?
No. This is an internal transaction number. For example, if you see the number 7, you are the 7th person to reserve that particular route on that particular trip.
4. The trip information on the "Schedules" portion of the booking process is different than the schedule on your site. Why is that?
At periods of high demand, we may alter the posted schedule on the website to add another trip not originally listed. Alternatively, if we need to combine any number of trips to ensure that trip's operation, the departure and arrival times may be altered to suit those operational needs.
5. Why are your tickets priced at $0.50 intervals?
Each ticket includes a $1.50 credit/debit card processing fee in addition to the price of the actual ticket.
6. When I the date and "From" and "To" locations in your booking portal, nothing happened? What should I do?
If you're using an Apple device and the Safari browser, click "Refresh." If you still have trouble or cannot view the schedules, double check your dates and locations with the schedule below on the page to ensure the trip is running. If you're still having trouble, call us at 877-724-4360 and press 3.
7. The booking window did not open on my page. What can I do?
See question 6 above.
8. When I purchased my ticket online, all I received was a PayPal receipt. How do I get my tickets?
When you purchase your ticket, you will receive two emails, one from PayPal and the other from our company, CoTo Travel. If you do not immediately see the second email from CoTo Travel from "info (at) cototravel.com" that says "Your Bus Reservation & Tickets" please check your Spam folder. We have received reports that all email accounts connected to Gmail, including select Dickinson emails, have had their reservations placed in the Spam folder.
9. What is your cancellation and refund policy?
Please note that reservations made for this service are non-refundable, non-exchangeable and non-transferable. Any cancellation made by a purchasing party will result in a full forfeiture of payment.
10. What do I need to board the bus?
When checking in for our bus, please show us your PDF ticket and a valid photo ID (drivers license, non drivers license, passport or NYC ID card). The ticket is sent to you in an email with your confirmation and credit card receipt. You may show your ticket on your smartphone or other device or print it out.